TRAP DOORS
Does your false Ceiling Look like this?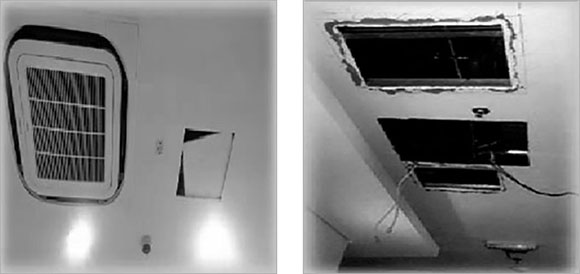 WHY ACCESS DOORS REQUIRED?
Access doors behind false ceiling, walls, floors, roofs and duct shaft.
Aesthetically matching with interior.
Should take desired load as per application.
To maintain AHU's, Valves, etc. behind interior finishing.
Problems associated with trap doors on site.
Most neglected item & given no attention.
Local carpenters, fabricators do the job as per their skill set.
Non standard sizes are used as per requirement.
Weathering gaps at joints between finishing material and trap door.
Wrong, Non standard hardware is used on trap doors.
Spoils the look of the entire interior work.
HORIZON IS OFFERING THE SOLUTIONS FOR ACCESS TRAP DOORS
Access Trap Doors are available in standardized sizes, Architects and MEP consultants can plan these doors and later on, trap doors can be installed.
Proper supporting system is provided as per application.
Light weight construction.
Plan a cut out in application area and install our trap doors.
Gaps created due to weathering are avoided.
Aesthetical looks are maintained as per interiors finishes.
Chains prevent trap door to fall while opening.
Any colour can be applied.
Easy to install.
Fire rated options are available with international certification.
APPLICATIONS OF TRAP DOORS
False Ceiling, Walls, floors, Roofs, Duct Shaft in Residential and Commercial complexes, Malls, Airports, Hospitals, Hotels and Institutions etc.