Doors
"Doors are a hinged, sliding, or revolving barrier at the entrance to a building, room, or vehicle, or in the framework of a cupboard" OR "A movable piece of wood, glass, or metal that swings or slides open and shut so that people can enter or leave a room, building, vehicle, etc."
"Definition of Door" is difficult to understand than understanding "Door" if you read above statements…
Doors are Assembly of Frame, Shutter and Hardware (Ironmongery) on it. Doors can be Wooden doors, Metal doors, Glass doors, Plastic doors and many other materials. We use doors in Built environment for Entry, Egress, Security of property, for Maintenance Access, etc.
DOORS REQUIREMENT DEPENDS ON VARIOUS PARAMETERS, SUCH AS
Material of Construction of Door
Finish Required
Size, depending on occupancy requirements
Single leaf or Double leaf, Sliding, Etc
Architectural requirements such as Handing, Ironmongery, etc.
Fire rating requirements
Many other customer or application based requirements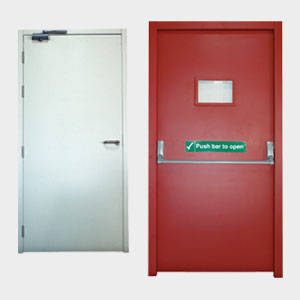 It is important to understand requirement and plan ironmongery such as Handles, Hinges, Door closures, Panic Bars, Locks, Keys and Keying solutions, Electrical hardware, etc. Seals are important depending on application, such as smoke seal, Acoustic seals, Intumescing seals, Door bottoms, etc.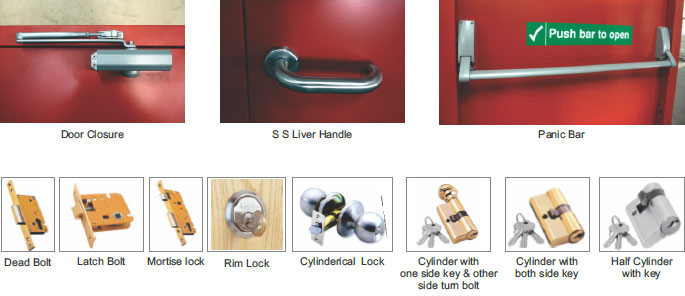 Depending on Material of construction, various frame and shutter options are available. Frames can be single or Double Rabbet, with or without Architrave, etc.
Shutters are also of different types and sizes. They may have vision panel, various finishes, etc.
WE, HORIZON ARE MANUFACTURING FOLLOWING TYPES OF DOORS.
Metal Doors – Fire rated doors and Non fire rated HMPS doors
Glass Fire rated doors and Partitions
Sliding Fire rated doors
Blast resistant doors and Partitions
Trap doors or Access Hatches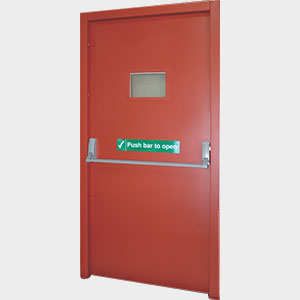 To understand the handing of door internationally, following drawing is used.