HORIZON HAEMMERLIN DEBRIS CHUTE

Why Debris Chutes? Construction sites are always prone to accidents, dirt and unsafe working conditions. During construction debris is generated. Disposal of this construction waste is nightmare for Project Engineers. Lots of accidents happen due to this and most of them are fatal.
Human life is invaluable and occurrence of these accidents may lead to huge financial, legal liabilities and site schedule can go haywire. This loss is immense.
SOME OF THIS PROBLEM ASSOCIATED WITH UNSAFE DISPOSAL OF DEBRIS ARE AS FOLLOWS:
Accidents, mostly fatal accidents.
Huge financial and legal liabilities.
Unsafe working environment for workmen, staff and visitors.
Deviation from latest OSHAS and ISO 14000 norms.
High dust and noise level.
More manpower for debris disposal.
Cleaning of ducts used for debris disposal is tedious.
In densely populated areas this task becomes much more difficult.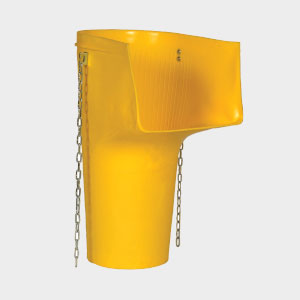 Unfortunately, till date nobody has given proper thought to this problem nor slightest of attention.
We at Horizon Chutes, a leading organization in Solid Waste Handling and Building waste Debris Chute Systems, have come up with a state of art technology in association with Haemmerlin, France to give solution for the problems faced in debris disposal.
Now disposal of debris is SAFE and User friendly by using Horizon Building waste Debris Chute Systems.
Salient - SAFE DEBRIS CHUTES:
Special grade of plastic used for manufacturing
A Lightweight product
Free from Ultra Violet (UV) impact for life beyond 12 years
Ease of Erection
Dismantling is easy
Ease of transportation
Better working conditions at construction site with lower dust and noise levels
Reducing manpower involved in debris disposal
Installation and operating costs are reduced
Storage volume is less
Can be reused from one project to another
High impact strength and ware resistance
User Friendly product
The debris chutes can be erected on outer periphery of the building
Erection possible on RCC structure or Scaffoldings